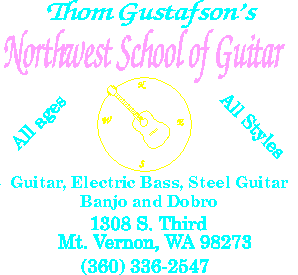 I have been teaching guitar, electric bass, steel guitar, banjo and dobro since 1976. I began teaching full time in Mount Vernon in 1980.
I teach all styles of music, especially rock, classical, country, bluegrass and jazz. My students range from pre-schoolers to senior citizens and beginners to working professionals.
Whether you are interested in the basic rudiments of music and instrumental technique or advanced music theory, I believe I can help you as I have helped thousands of others.
My rates for private lessons (by far the best way to learn) as of 9/1/2015 are:
Weekly 1/2 hour lessons - $75 for four weeks

Weekly 1 hour lessons - $130 for four weeks

One 1/2 hour lesson; $25

One 1 hour lesson; $40
For more information, contact Thom Gustafson at:
(360)-336-2547
email: thom@schoolofguitar.com
BTW, I know this page is a bit gaudy but it's a relic from my first web site so I included it for sentimental reasons ;)